Eircode: V23 T277
Telephone: +353-(0)66-947 7626 email: agnesosullivan1@gmail.com
 Céad míle fáilte! = A hundred thousand welcomes!
Welcome to the website of Taobh Coille, a high quality bed and breakfast in Kells, Co. Kerry, Ireland.
We serving fresh tea coffee and cake on arrival
For directions to Taobh Coille or to send us an e-mail click here.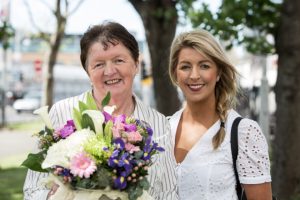 Winner of B&B of the Year 2019! and still holds the title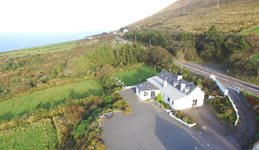 Taobh Coille, winner of B&B of the Year 2019, is a farmhouse with panoramic views of Dingle Bay, located on the Ring of Kerry, the N70. A warm welcome awaits you!
Tea/coffee and home baking are available on arrival. Excellent home produced food and a genuine Irish, homely atmosphere will make your stay in Kerry most enjoyable.
Taobh Coille is part of a working farm so you can eat lovely eggs from our free range hens with homemade bread as part of your breakfast. Farm, beach and mountain walks are all available directly from the property which is situated adjacent to 'The Kerry Way', making Taobh Coille a great base for exploring this amazing locality.
To book a stay at Taobh Coille please use our booking widget on the left of this page or visit our page on B&B Ireland or on the Kerry Way website. To see our rates or send us an e-mail please click here
Fishing trips arranged
Fresh eggs from our free range hens
Home baking and cooking
Collection from Kells Post Office (by arrangement)
Breakfast on the farm and the best of free-range eggs
what a great start to your day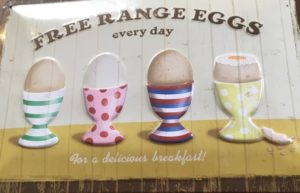 We provide a two night minimum stay
The scenery here is a treat for the eyes
Reviews
Chris – Oct 2021
My five days stay at Taobh Coille, during my one month holiday in Ireland, was in every respect an exceptional experience. This is the real Ireland, this is the real Irish hospitality. I was treated as one of the family, a very warm family. Mentioning Agnes and John in the area opened a lot of doors, they are clearly very respected and appreciated members of the community. I had a lovely large and comfortable room, and I had the opportunity to appreciate Agnes's excellent cooking. The view from the breakfast room, over the Blasket Islands and the Dingle Peninsula, is absolutely unique. I have unforgettable memories of my excursions in the Kerry Mountains and Valentia Island, words fail me to describe the scenery, I have been travelling all over Ireland on numerous occasions, and this is definitely the part of the country that has most impressed me. And coming home in the evening to Taobh Coille and talking to Agnes and John about the adventures and the discoveries of the day, and hearing their stories, made it all the more unforgettable. I definitely hope to be able to go back to Kerry for another and longer stay at their lovely and friendly home.
Review Score: 10/10
Ananda & Steph Stauffer – Mar 2020
Exceptional hospitality! We couldn't have asked for a warmer welcome or stay with Agnes and John. We were warmly greeted and provided fresh homemade bread and tea. Agnes built a lovely fire for us and we enjoyed conversation with her. The room was private and very inviting with everything we needed and more. Breakfast was excellent!! You can't beat the views or location either. Highly recommend!!
Review Score: 10/10